Content count

256

Joined

Last visited
Community Reputation
214
Excellent
About Lieutenant Colombo
Rank

Corporal


Birthday

01/25/1999
Profile Information
Gender

Male

Location

United Kingdom

Interests REAL NAME FOR PBL USE : Douglas Fergusson
Police, aviation, K-9 dogs, Columbo (obviously xD) LSPDFR, Old Music 50s. 60s (Elvis Presley mainly) 70s 80s, SOME modern music, Old movies, mainly war movies, Quentin Tarantino movies like Pulp Fiction, Reservoir dogs, etc. James Bond fan, love all the old and new films. Starsky And Hutch, 1-Adam 12. Gaming, computer technology.
Recent Profile Visitors
4,985 profile views
About Me
ABOUT COLUMBO AND MYSELF.
*Lights cigar* Hello everybody! I am Lieutenant Columbo, Homicide detective for the LAPD. (No I am not a real LAPD detective). For those who don't know, Lieutenant Columbo was a homicide detective series that ran from the early 70s, to 2003. Played by legend Peter Falk, I fell in love with the show and the character, and I am only 17 which makes me quite an old soul, xD. I wanted to keep the franchise alive with this simulator, so I pose as him on the forums. Most of the topics and posts I make are in character, unless it is something serious.
So Lieutenant Columbo, I am Italian American, and have been working under the rank Lieutenant for a long time, I drive around in a lovely Peugeot 403. You take care of the car, it takes care of you! Same goes for my Spanish tailored jacket Other officers say to get a new one, but there's still plenty of wear in this fella! My life wouldn't be complete without "Dog", dull name, but I just couldn't think of anything else for him! He's my partner in investigation ;). And then there is my wife, people never see her, but why would she come on an investigation with me anyway? No! She is at home taking care of the flowers in our yard.. I am really looking forward to this simulator, and a great fan base of the people behind it. Oh and for those that are always curious, I do have a first name, but my wife is the only one who really addresses me by it, you can see it on my badge sometimes, but my full name is Frank Columbo ;)
Oh and just one more thing...Here are the people I have gotten to know really well here and consider good friends/people within 10-13 and on Steam
Matt Norman, Tokimune, MegaKillen, Sss, n3o, Brondriana, Echo, Fabi,  and many others!
Frequently Asked Questions:
Why do you call yourself Lieutenant Columbo and pose as him on the forums? ---Like I have stated in my interests and above, I pose as Columbo because I am a huge fan of him and the show, especially his actor, Peter Falk, I still remember watching my first Columbo episode with my granddad, aged 10-11, and falling in love with the franchise, me and my granddad love a beer or 2 on a afternoon at my grandparents house to watch an episode. Which is why I wanted to just be his character on the forums and show my dedication to the great show it was. And YES, the name is Columbo, I know that my user name is Colombo, which was a spelling error that I can't change.
Why do you like old movies, music, and the old school of doing things?
Simple answer to that is, I don't know, god just made me a person who grew up to be a teenager who wasn't into the modern stuff, (accept gaming and ICT) But to like old music, and films, just like the Columbo TV series, I love old music, Elvis Presley being my favourite artist of all time, and I also love 70s and 80s music. I also love music going back to 50s and some even 40s, I also love old films, mainly war movie classics, "Bridge too far" "Battle of Britian" "The great escape" "Dam busters" I also like many other movies and stuff, which is in the next questions ;)
What modern stuff do you like, and is there any other films you like?
Of course! I do like some modern music, Uptown Funk, The Nights, Cheerleader, Happy, and others, I like the TV series "The Walking Dead" and I also like gaming, and ICT, my Steam name is "NightBeauty" for those that want to know. (If you want to friend me, message me saying your 10-13 forum name so I know its someone from here, I don't accept random FRs.
Who is the REAL you?
The real me, I am Doug, and I live in the United Kingdom and I am 17 years old, I love German shepherds and cats, along with spending time with family and friends, and enjoy travelling, I love seeing my family and friends in Nashville Tennessee, as well as going to other places. No I don't not have a wife, I only say I do when in character of Columbo.
I live with this motto, "Some people will shake your hand, some will try to break it"
LIKES AND DISLIKES:
LIKES:
Some 40s music, mainly 50s, 60s, 70s, 80s, and some 90s music.
Old police cars, 1987 Crown Victoria, 60s Dodges, David Starsky's red striped tomato ;) (Ford Gran Torino)
Elvis Presley, Freddy Mercury, Johnny Cash, Frank Sinatra, Glenn Miller, Hank Williams Senior, Willie Nelson, Paul McCartney (when he could sing) John Lennon and other artists. If they were ALL still alive, they would all have a  tea party with me.
Travelling--Places I've visited: Nashville Tennessee, Disney Land Florida, Disney land Paris, Canary Islands, Spain, Hamburg Germany,
Dogs and cats, Love my cat. and I love dogs too. German Shepard's in particular.
Gaming
Matt Norman and Wingman Games, along with this community.
DISLIKES:
Deep Deep Ocean--But I enjoy swimming in pools and shallow seas ;)
Hyenas
90% of todays music.
People who say all cops are brutal blood thirsty killers.
People who judge by race, sexuality, ability.
Crime
Matt Norman--JOKING JOKIN PLEASE DONT BAN 
Side runner lights..
LSPDFR crashes.
MOVIES AND MUSIC, TV SERIES I LOVE
Movies:
James Bond (Sean Connery to Daniel Craig), Jaws, Pulp Fiction, Reservoir dogs, Jurassic Park 1-3, War movies (stated above) The taking of Pelham 123, North Western Frontier, Home Alone, 1-2, Dawn of the dead, Shaun of the Dead, Ted, Titanic, The Equalizer, Nightcrawler, Airplane 1-2, Deliverance, Of Mice and Men, 28 Days later, 28 Weeks later, Forest Gump, Rain man, Indiana Jones, Toy Story, Cats and Dogs 1-2. The day after tomorrow, 2012, Honey I shrunk the kids (and following series), Ghostbusters, The Simpsons Movie.
TV Series:
Columbo, The Walking Dead, Mad Men, Luther, Worlds Wildest Police Videos, Alcatraz, Broadchurch. Starsky And Hutch, Charlies Angels, Adam-12. 
Music: I like, 50s, 60s, 70s, 80s, some 90s and todays music, but I am mainly into old music before my time. Country, rock n roll, etc.
Too many Elvis songs, Cats in the cradle, Lonely is the night, Saturday nights alright for fighting, I saw the Light, Whisky River, If you want to get to heaven, Bakers Street, Video Killed the Radio Star, Radio Gaga, Its a Kind of Magic, And many more Queen songs, Skeletons, Stayin Alive, Act Like you Know, Automatic, Uptown Funk, The Nights, S.O.B, Happy, Cheerleader, Wasn't Me, Rock around the clock tonight, Too many Sinatra Songs, Born Free, Gold, In the Mood, Chattanooga Choo Choo, Tutti Fruiti, Don't you forget about me, I'm a Believer, Cars, Hollywood Nights, Welcome to the Jungle, Dancing in the Moonlight, Jump on it, Give it up, Come on Eileen!, We built this city on Rock n roll, Ring of fire, Get Rhythm, Funky town, Get with it, Hero, Too Late For Goodbyes, Shadows of the night, Ground Control to Major Tom. If you want to listen to these songs or other songs I like, here is my playlist https://www.youtube.com/playlist?list=FLHzlhBRR9kOdzZy4PwOtFlw 
Columbo Scrap Book
My ol' banger,  A French Peugeot 403, you take care of the car, it takes care of you!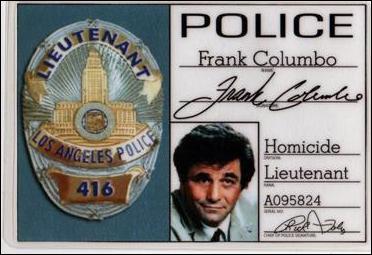 I do hate the days when your badge photo need to be taken..
  Say wut?
"Dog" Dull name, but couldn't think of anything else, my sidekick, just not good at catching sticks yet..
Left to right, I do make people laugh don't I? I just can't quit.. A bad day at the office.
LINKS:
YOUTUBE: https://www.youtube.com/channel/UCHzlhBRR9kOdzZy4PwOtFlw Feel free to watch my videos, and its totally up to you to like, dislike, comment, or subscribe. ;)